Welcome to The Private Jet Podcast!
If you own or operate business or private aircraft, this online audio show is for you!
You'll hear conversations and interviews with industry leaders on reducing risk and increasing value in business and private aviation.
Some episodes are hosted solo by Tom Wachowski. Other episodes feature experts sharing advice and perspective (for free) on topics like:
Conducting due diligence, to save you money
Negotiating agreements, that benefit you first
Acquiring aircraft, suitable for your mission
Reselling aircraft, that you no longer need
Taming taxes, because it's your money
Hiring staff, that exceed your expectations
Setting up operations, to serve your needs
Manage departments, to support your assets
Insuring assets, to protect your interests
Training people, for high performance
Auditing processes, for your peace of mind
Increasing value, that you're already paying for
Reducing risk, that might not be apparent
All episodes are available in iTunes. Subscribe there to catch every episode immediately after release!
Shows are also available for search, playback, or download  on the topics page.
Additional "after the show" audio content is distributed via. our private feed.
Your Host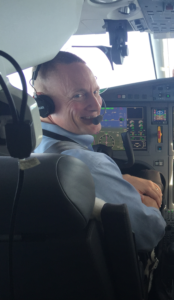 Tom Wachowski is an Aviation Professional focused on safety, service, and leadership to reduce risk and increase value in business, corporate, and private flying.
He founded the Private Jet Podcast to serve the business aviation community and continuously learn best practices within the industry.
Tom's professional background includes nearly two decades in aviation including airline, charter, and corporate flight operations. Today, he flies a Falcon 2000 LXS in the United States.
You can reach Tom directly here.